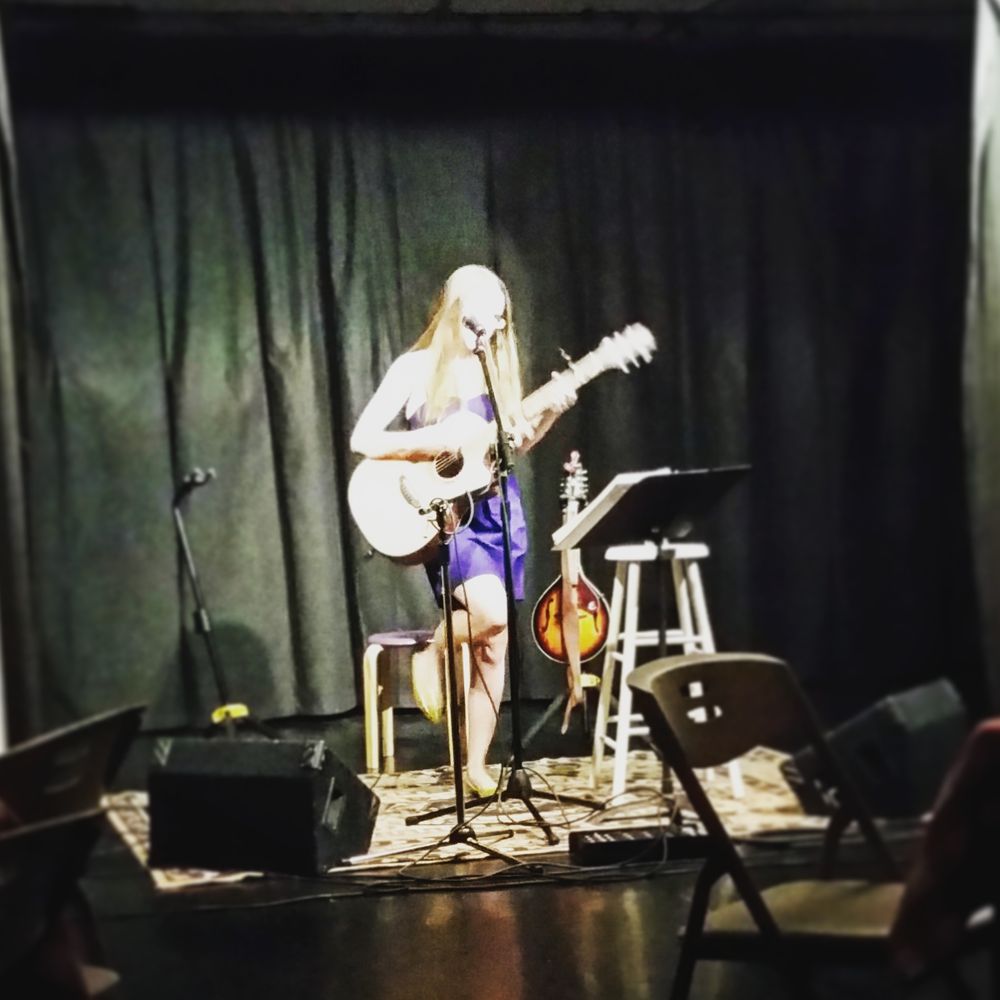 BIO
This girl steps on stage and she's really small. The kind of small that makes people go "aww" and use words like "cute" to describe her in her little dresses and bare feet. Until she starts singing. Those who have heard her before look around the hushed room with knowing grins. Those hearing her for the first time are in shock from hearing that voice come out of that tiny person.
This is KELLY ANN.
Born in Northern California, and now based in Plumas County, CA, KELLY ANN stands at 5'2" and belts it out like there is no tomorrow. 
She is a force to be reckoned with and isn't afraid of pushing the boundaries of genre. She loves jazz, soul, motown, pop, reggae and r&b music. She sounds like a blend of Linda Rondstadt, LP, and Sigrid that threw in a little Johnny Cash and Ray Charles for spice.
KELLY ANN has been writing music for as long as she can remember. Growing up in choirs, every instructor tested her vocal range from alto to high soprano and challenged her to reach further. Learning guitar at the age of 10 gave her the courage to hit the stage solo at church and it was there that she gained her love of performing. She continued her vocal training throughout college in Memphis, TN until she moved back to her home state of California and launched a full-time solo career in 2011.
In 2013 she released a crowd-funded, self-titled EP. After opening a show for The Marshall Tucker Band the year before, she hit the road to record and release the five song album. The EP was a fun and sassy declaration of independence that highlighted the artist's raw, acoustic sound that her fans adored on stage.
"Gypsy Soul could have been the title track of my first EP. I finished writing it on that tour and its 'make your minutes count', seize the day message was as much a message to me as anyone else. I've always had this insatiable drive to never give up whenever things get really hard. And that's what this album is about. Everything that is more important than anything you'd give up over." says KELLY ANN.
On September 1, 2019 she finally released a single after spending five years trying to get her health in order. Mockingbird has all the songwriting dare of Bob Dylan and the ethereal quality of Enya. Written to commemorate a classic novel and the memory of a lost loved one, Mockingbird will haunt you with it's beautiful message and sound.
"I wrote Mockingbird while my godmother was in hospital, but she never got to hear it. To Kill a Mockingbird was her favorite book. I wrote this song to grieve and celebrate and share some of the moments and conversations we shared in her lifetime." KELLY ANN
We look forward to much more from this talented and inspiring artist.